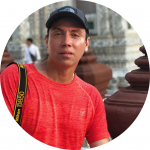 I breathe, dream and live photography. Since I can remember I've been taking photographs, so one day I decided to make a living out of my passion and I have never regretted making that choice. I'm not saying that it is easy but I simply find great pleasure in shooting or editing images. I worked for the BBC and Viasat Broadcasting UK for several years as a picture editor, which was an invaluable professional experience. Now I work as a freelancer and regularly collaborate with a magazine dedicated to Latin culture in the UK (I am a bilingual speaker of Spanish and English).
I am a Getty contributor for Creative and Editorial assets and my images have been published digitally and in print by UNESCO, Nike, GQ, The Times, the BBC, National Geographic, National Geographic Traveler, The Telegraph, in educational books around the world and in photography magazines including Photo Pro and Digital Camera Magazine. In December 2012 one of my images was used for Argos' Christmas TV campaign and I shot the stills for the BBC iPlayer Intrigue TV campaign.
I live in London but I love travelling. Being a mad photographer, I find it hard to get into the 'holiday' mode. Every time I'm in a foreign country I can't just relax at the hotel's balcony sipping a mojito, I have to take photos! Perhaps that's why always (or almost always) I travel alone or with fellow photographers. I've discovered that I simply can't concentrate and produce good work when I have someone waiting for me, no matter how patient my companion is, my creativity and inspiration won't flow.
My travel images have brought me international recognition, among others: a Gold medal in the Press Professional category from the Prix de La Photographie de Paris PX3 in 2012 and a silver medal (People's Choice) in the Press Professional category in 2013. I was shortlisted in two different categories for the prestigious Travel Photographer of The Year in 2012 and exhibited one of my shortlisted photos at the World Photography Organization WPO in London.
Throughout the years of crazy snapping, I have produced tons of photos and many that I felt haven't quite made the grade were just collecting dust on a pile of hard drives under my desk, so that's why I decided to create this blog, to share some of them and the stories behind them. I named the blog "Visual Stories" as I plan to post more images than words. I regularly post on my Facebook page but I hate the aggressive amount of compression that Facebook applies to images and, no matter what magic formula I use when uploading them, the images never look their best.
I hope you like what you see here, please feel free to share and if you have any questions or suggestions, contact me, I'm a nice guy.
Follow me on Instagram,  Facebook and Twitter or subscribe to my monthly newsletter.