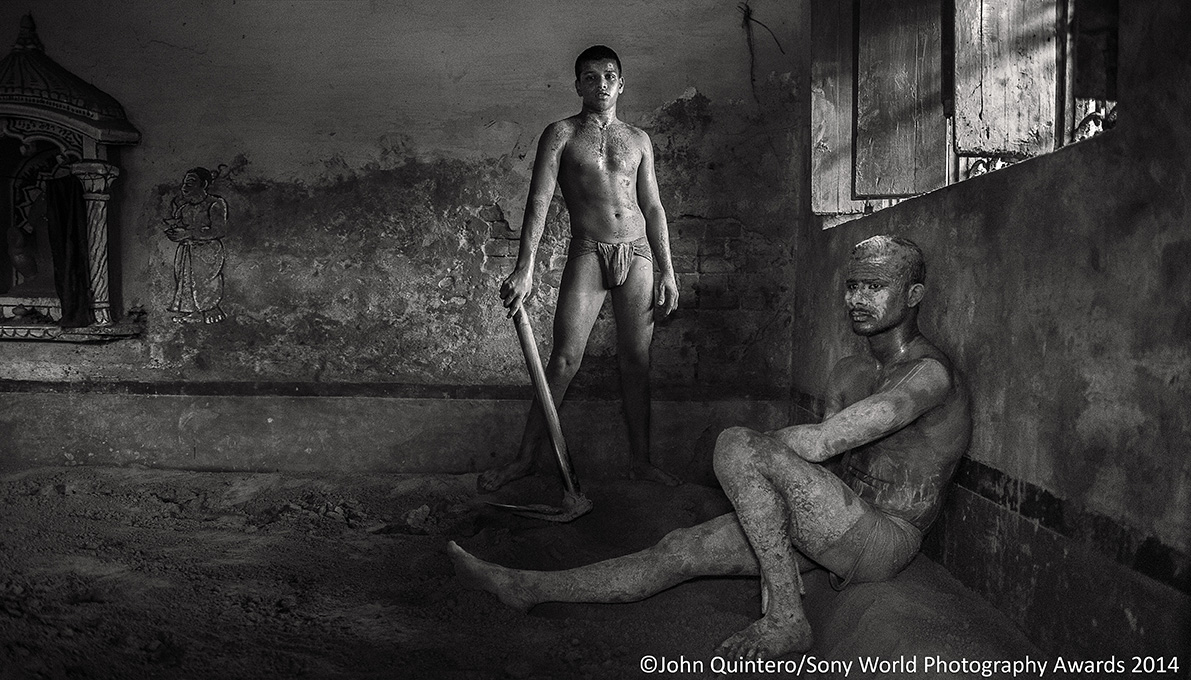 I'm delighted to announce I am one of the finalist for the Sony World Photography Awards 2014 with my series of Kusti Wrestlers from India taken last year.
The press release, sent out today:

Colombian photographer John Quintero named as
finalist for 2014 Sony World Photography Awards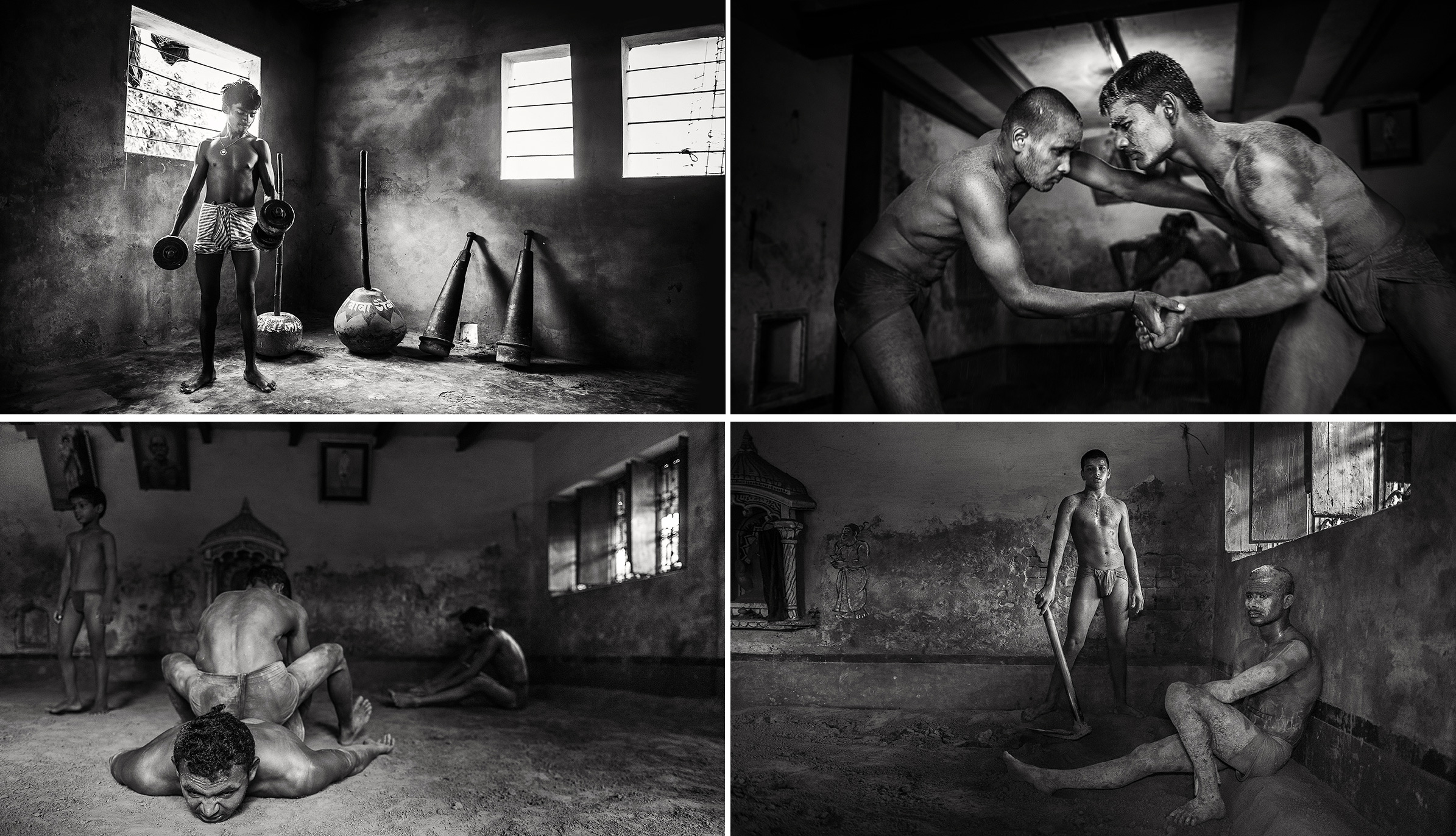 4 February 2014:  Colombian photographer John Quintero is today named as a finalist in Professional Sport category of the prestigious 2014 Sony World Photography Awards.
A panel of photography industry experts selected John's images "Kusti Wrestling" from nearly 140,000 submissions by photographers from 166 countries, the highest number of entries in the awards' seven year history.
The Sony World Photography Awards are one of the world's leading photography competitions and each year rewards the very finest in international contemporary photography.  Those entering the Professional competition are judged on a body of work.
"Being named as a finalist in one of the most prestigious photographic competitions in the world is a great honour, the feeling is overwhelming, I still can't believe it"
Vamos a fotografiar Bagan desde una perspectiva asombrosa. Incluimos un paseo en globo al amanecer
"The Kusti Wrestling series were taken in different akhadas around Varanasi, Uttar Pradesh State in India last July.  I am always interested in vanishing traditions and cultures. This ancient sport is slowly disappearing in South Asia and I believe that through photography I can contribute to generate awareness of the importance of keeping the tradition alive"
John Quintero works as a freelance photographer in London but spend part of the year travelling around the world. His images have won numerous awards and nominations.
John's work, plus that of the other finalist and shortlisted photographers of the awards, will be shown at Somerset House, London, from 1-18 May as part of the 2014 Sony World Photography Awards Exhibition.  Tickets are now available at www.worldphoto.org/2014exhibition .   The images will also be published in the 2014 edition of the Sony World Photography Awards book.
The winner of the Professional Sport category, and those of the other 13 Professional categories, will be announced at a gala ceremony in London on 30 April.  Each winner will receive the latest digital imaging equipment from Sony.
On the same night, the winner of the coveted L'Iris D'Or/ Sony World Photography Awards Photographer of the Year title will be revealed.  This photographer, chosen from the 14 Professional category winners, will receive $25,000 (USD).
Talking about all the Professional category finalists who were also revealed today, Astrid Merget, Creative Director of the World Photography Organisation, comments: "I have had the pleasure of witnessing the careful selection and ultimate revelation of the finalists and shortlist of the Sony World Photography Awards for seven years now and the results are never less than utterly gratifying.  Year upon year, we are fortunate enough to receive thousands of entries across each category of our awards, making the process of discovery an invigorating experience.  This year is no exception and the awards have once again provided us with an impressive collection of photographs, spanning dozens of genres, styles, locations and subject matters."
For more information about John Quintero please visit www.johnquintero.com
Email: info@johnquintero.com
Images from the shortlist are available to download at press.worldphoto.org or via Image.net
If you require press membership please register at press.worldphoto.org/register
For further information please contact:
Jill Cotton, Press Manager, World Photography Organisation
+44 (0) 20 7886 3146/ + 44 (0)7557 261 537 / jill@worldphoto.org
Notes to editors:
Interviews with photographers and judges are available via Jill Cotton at the World Photography Organisation
139,554  images were entered in total to the 2014 Sony World Photography Awards: 69,114 Professional entries; 65,512 Open entries and 4,928 Youth entries images
About World Photography Organisation (WPO)
WPO supports professional, amateur and young photographers, lending a global platform for the photographic industry to communicate, converge and showcase current trends across all genres of photography.
Delivering various initiatives to this global community, these programmes involve the photographer in commercial, cultural and educational activities within the many industry sectors, whilst also creating events for the public to participate in.
Currently included within the WPO portfolio are: the Sony World Photography Awards; the World Photography Student Focus Competition and Youth on Assignment. In addition the WPO have recently launched Photo Shanghai, Asia-Pacific's premiere international Art Fair focused on photography and The Magazine, a monthly online publication where photography is explored, debated and discussed.
WPO also has a thriving online presence via its website, Twitter, Facebook and Instagram and engages its online audience via regular PhotoTALK discussions.  For more information go to http://www.worldphoto.org
About Sony
Offering an integrated entertainment experience through its electronics, mobile, music, pictures, game, and networked entertainment business, Sony is uniquely positioned to be one of the world's leading consumer brands. Sony is renowned for its audio-visual products in both the consumer and professional markets, such as the 4K Ultra HD and Full HD LED BRAVIA™ TV, Cyber-shot™ digital camera, Handycam camcorder, "α" (pronounced Alpha) digital SLR camera, Sony Tablet, and Walkman MP3 player, as well as its VAIO personal computers and 3D HD professional broadcast equipment.
For more information on Sony Europe, please visit presscentre.sony.eu. For more information on Sony Corporation please visit www.sony.net. "Sony", "WALKMAN", "VAIO", "Cyber-shot", "Handycam", "α", "BRAVIA" and "XDCAM" are registered trademarks or trademarks of Sony Corporation. All other trademarks or registered trademarks are the property of their respective owners.