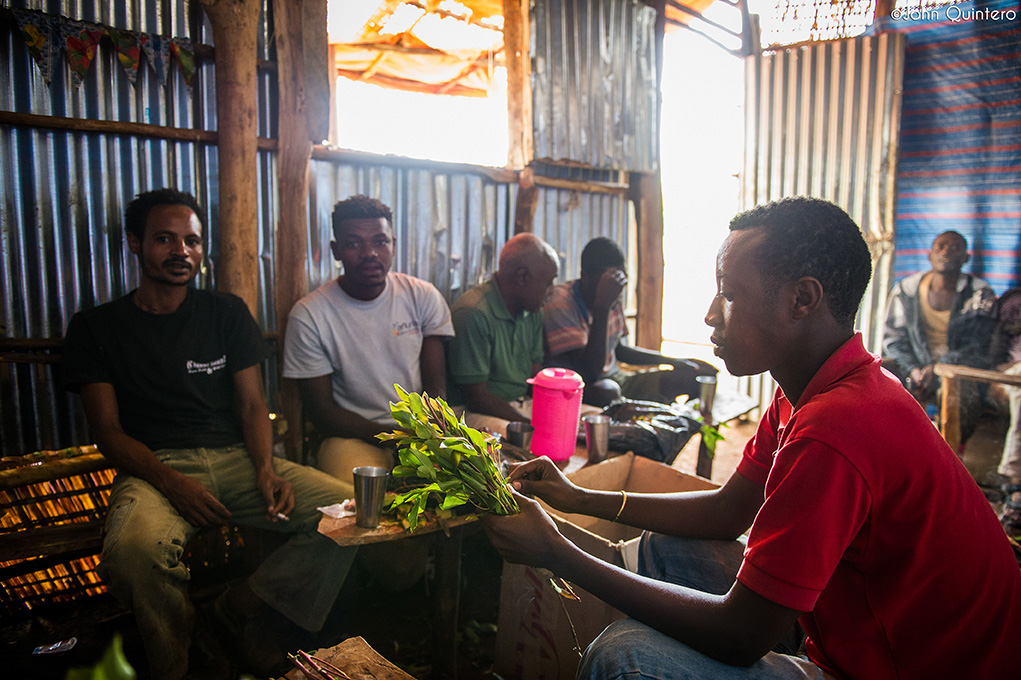 Khat or qat is  a flowering plant and an addictive drug categorized as a stimulant that creates feelings of euphoria, loss of appetite and excitement triggered by chatine and cathinone, the alkaloids present in its leaves. The plant is native to East Africa and the Arabian Peninsula.
My first encounter with the plant was in Karat, a small town in south Ethiopia. My driver and guide insisted I should go with them to one of the several khat houses in  town.
Can I take photos? I ask -Of course you can, they said.  2 minutes walk from the hotel and we are in the khat house.
The place is a makeshift room with wood benches where local men are chatting and chewing the plant. Khat chewing usually takes place in groups in a social setting. Only a few frequently chew alone.
On one side, a woman is selling tea, water and peanuts. Strangely, no one is selling the plant, everyone arrives with their own bundles. Mamy, my driver, gives me a handful of leaves and tell me to slowly chew them  mixed with peanuts to mask the bitter taste. -Don't swallow it! he says. Just drink the juices and keep chewing. Everyone around stands still in silent looking at me. It is not as bad as I thought, not too bitter or hard to chew.
For the next couple of hours, I stay there, slowly chewing, drinking water and talking to these guys who in an attend to be kind with me, select the best leaves from their bunches and give it to me. A chewing session may last for several hours. At some point I am bored, as I can't understand anything of what they are saying in Amharic.  One of them passes me his mobile phone so I entertain myself listening to his local music.
I kept chewing but I never felt anything! No euphoria, no alertness.  Perhaps I'm not doing it properly or I don't chew enough to trigger the effects. But I can see how the eyes of the men around me take on a glazed expression. There is a lot of talking, laughing and excitement.
Chewing  khat is considered a social institution or habit that contributes to the creation of a cultural identity. Political problems, news and religion is debated in these khat houses. In the meantime  I start taking photos.
After this first experience, I constantly saw men chewing in groups, especially at night time in towns like Turmi but this was nothing compared to Harar, the khat hub of Ethiopia, my next destination.
Harar is is the capital of Harari, five hundred kilometres from the capital Addis Ababa. Harar is, according to Sir Richard Burton; the birthplace of the khat plant.
Since the moment my friend Imany and I arrive, it was obvious khat is a big business here. Lines of mainly women sit along the streets selling bundles of plants to passer-byes. Men carrying a bunch of these leaves is a common sight everywhere. Soon I discovered most of the plants had come from Awaday, a small town a few kilometres from Harar. We found a local guy willing to take us there. He suggested to go at dusk, the busiest time in town. After about a one hour ride  on a minibus, we were in the heart of Awaday.
As soon as I step out of the car, the smell of fresh cut leaves is in the air. Khat is literally everywhere. Men loading trucks, vans and even horse carts rushes through the town.  Discarded leaves and stems are everywhere in the street, The town is extremely busy  with dedication to selling the plant. Men, women and children are focus on sorting, weighing and selling khat. An estimated 25,000 kilograms per day are sold through Awaday hub market.
My presence causes some weird starers and I am afraid to start taking photos but after a short walk I start snapping away, trying to blend in with the crowd but that is not an easy task when I am the only 'farangi' in town. We don't stay long, somehow i don't feel safe so we return to Harar.
The leaves are harvested from the hills around and quickly rushed them to Awaday for its commercialization. The whole operation must be carried out fast, the plant loses its effect after 3 days. The leaves must be in shops and markets around the world the next day after being cut. Although khat is illegal in some parts of Europe like Finland, Norway, Poland, France and Germany, it is a controlled substance in Ireland.  In the UK, khat trade, possession and use are not illegal but cathinone and cathine, the major active constituents, are scheduled as class C drugs, khat itself is not a prohibited substance.
After few days in Harar, we travel to Babille, near the border with Djibouti, another khat hub but of a smaller scale. Here the atmosphere is more relaxing apart from the constantly growing group of kids who follow us around shouting "you, you farangi!"  Pretending to ignore them doesn't  work, neither does shouting back, I gave up.