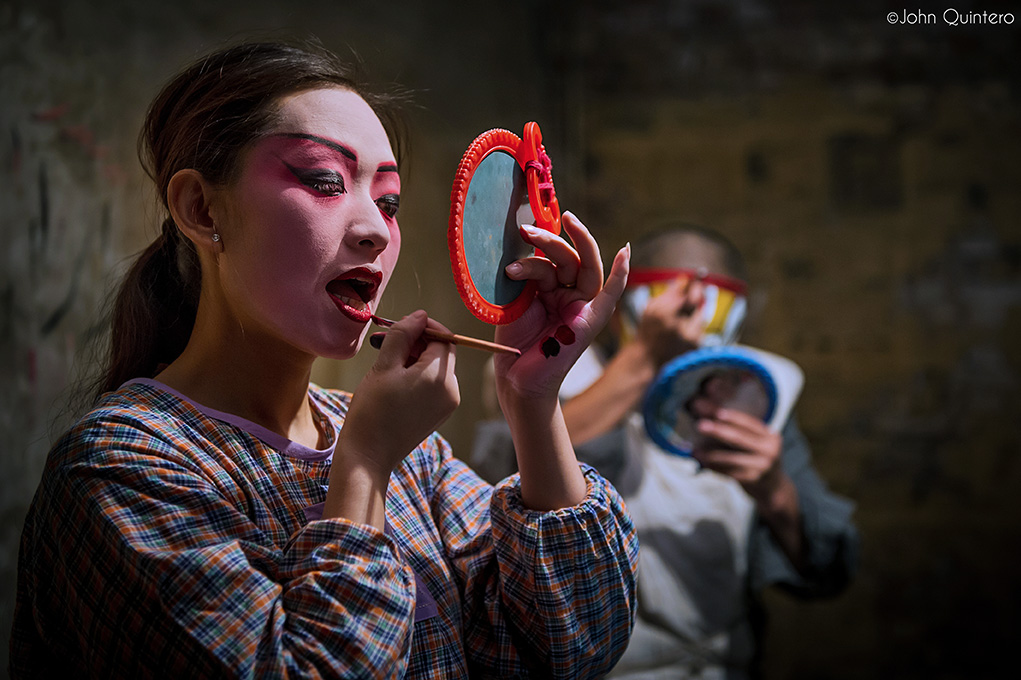 This selection of images is part of a series of photos I took in Lanzhou, the capital and largest city of Gansu Province in Northwest China. The city is famous for its many teahouses where local actors and retired amateur actors perform Chinese Opera, mainly from the Qínqiāng tradition.
Chinese Opera is part of China's cultural heritage and has long been one of the most popular forms of entertainment in the country, but the tradition is no longer proving appealing to the youngest generations and today the performers can barely make a living.
Now TV, movies and the Internet is where fame and money is for young actors. The traditional plays make reference to what was happening in the pre-cultural revolution years and to historic events, many of which are unfamiliar to young people. The success of big companies like the Beijing Opera does not reflect the reality of many of the local operas, which are in danger of disappearing forever.
Lanzhou was a stop over on my way to Xiahé and the meeting point with my friends Bart and Jo Ann, two fellow photographers also interested in travel photography. We didn't plan to stay in the city for longer than we needed to find a local guide and private transport to our next destination, but after wandering around on our first morning in the city, we discovered Lanzhou is far more interesting than it looked from the hotel's roof.
Once a centre for Buddhist scholarship during the Tang Dynasty, Lanzhou is now predominantly Muslim and the characters around markets and bazaars are very interesting to photograph – although not everyone is happy to have their photo taken. Although that's understandable, it is so frustrating when you see someone with such an interesting face and yet you can't shoot it!
In one of the bazaars we found a teahouse where a couple of friendly men invited us in. As soon as we entered we were served tea and the opera performers rushed to get ready to entertain us! We got excited and asked if we could take photos. We ended up spending hours drinking tea and talking to people (Bart speaks fluent Mandarin) and, of course, taking photos, mainly 'behind the scene' shots when the artists were getting ready.
Later that day we visited more of the teahouses and at night we went to Huáng Miáo, the tourist area where theatres and teahouses offer evening entertainment – as this is aimed at tourists not locals, it was much less authentic and we decided to explore more of the small local teahouses in and around the bazaars outside the city centre.
It is fascinating to see how they perform out of love for this ancient art form, rather than for the money. Entry is free but they expect you to order tea. If you are happy with the performer, you are invited to throw square pieces of fabric at their feet – they look like empty cushion covers – these are then counted and converted into Yuan. In only ten minutes I had a 'fan' who wanted me to marry her and take her to London. She even sang a song for me and I felt obligated to throw a couple of those cushions without even knowing their value in Yuan.
Between performances, the actors sit and chat with the audience, share a cup of tea and receive tips. The audience is mostly made up of men whose interest – and therefore tips – go mostly to the young female performers. It's a Saturday night, the busiest night of the week yet half of the theatre is empty. We can feel pressure from the actors, who obviously expect the 3 foreigners sitting on the front row to give money to each performer on stage! A lady who looks as though she is part of the troupe is in charge of filling up our cups after every single sip. She just doesn't take no as an answer. We are glad that it is tea and not alcohol.
The action behind the torn curtain is more fascinating than on the stage, and I am soon in the middle of the actors who ignore me while I take photos, as they continue with their makeup routine.
Chinese opera makeup is more complex than we perceive on those colourful faces. Each colour symbolizes something. Red for example, means bravery and loyalty while black means boldness and impartiality, yellow symbolizes ambition. Experienced opera-goers can identify the characters by their style of makeup and their costumes.
"You need to practice for three years for every three minutes on the stage," say the actors explaining the dedication needed to become a good Chinese opera performer. This hard work is not attractive to young actors and the idea of the overnight fame promised by the TV and film industries is far more appealing. Every year, more and more local operas are closing. The lack of young people to inherit the tradition means that as middle-aged opera actors change their vocations and senior performers leave the profession this beautiful ancient art is placed in jeopardy.
If you have read this post this far I think I had better stop and leave you with the photos. I forgot that I said I wanted to keep my blog more visual than verbal.
Enjoy!