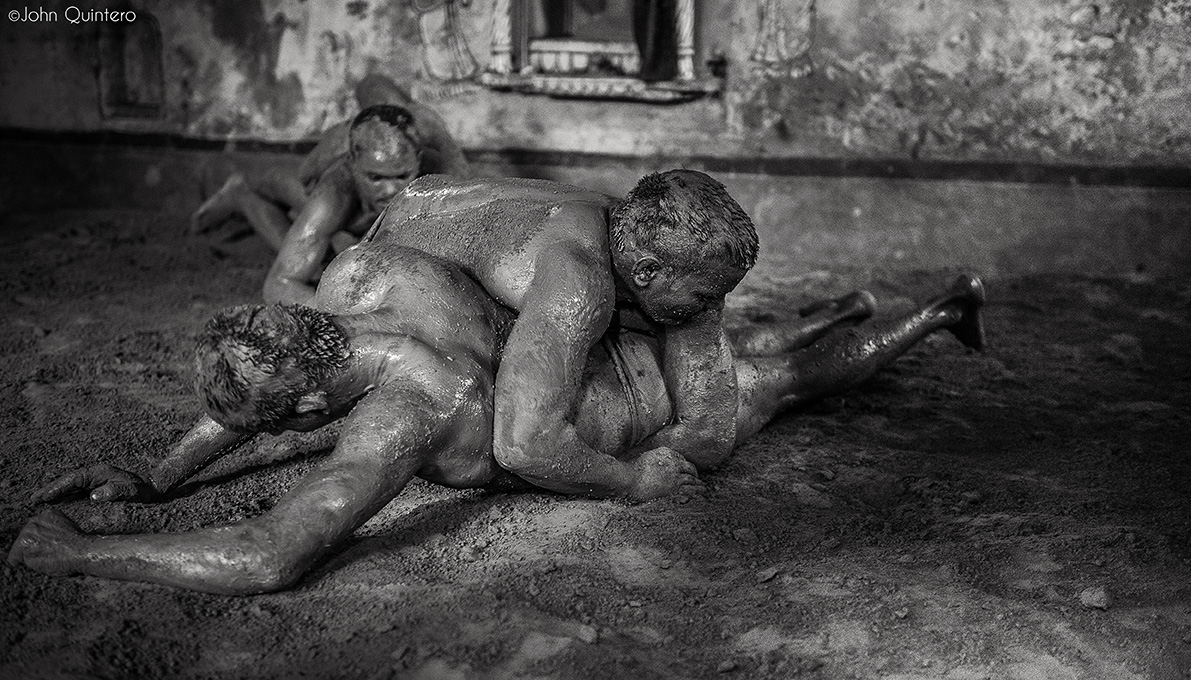 It's 5:00 am and I'm on a motorbike with my friend Manoj who, with an incredible dexterity, drives while avoiding cows and potholes in the road. Fortunately it is still very early and the chaotic traffic of Varanasi has not yet started. In fact is very quiet, only groups of pilgrims and sadhus are on the streets walking in the direction of the River Ganges for the sunrise puja. We don't know exactly where we are going but after about 15 minutes Manoj stops and asks several times for directions. We are looking for an Akhara, a traditional gym where Pehlwani – an ancient form of wrestling – is practised.
When we find the gym, there is no one around and we only know we are at the right place because of a painting of two wrestlers on the metallic gate. I suggest waiting drinking chai in a small 'cafe' – a wooden shack with a long bench where a couple of men wearing white turbans are chatting and drinking Masala tea.
After 30 minutes we returned to the Akhara where about 10 boys and young men are already warming up by running around the small patio. The ustad or teacher soon arrives and all the boys respectfully bow to him and touch his feet. In what feels like almost a sacred atmosphere, the small group of young men silently started training.
The exercise regimen includes dhakuli, which involves twisting rotations, rope climbing, log pulling and running. After 30 minutes of training I can see the exhaustion on their faces but even the smallest sign of slowing down means the trainee is hit with a stick by the ustad who doesn't take his eyes off them. The training session lasts for about 2 hours. I suspect today was harder than usual, perhaps to impress the photographer. The group doesn't seem to be very happy to see me crouching taking photos while they cringe in pain.
After a short break, the square-shaped arena for the wrestling is prepared by sprinkling water over the red soil to soften it. Two framed posters of gods adorn the dirty walls and I am asked to remove my shoes if I want to get into the pit to take photos.
Following instructions from the teacher the battle begins – but perhaps the battle has already been lost for traditional wrestlers? A few years ago, there used to be a hundred men training every day, but now more and more akharas are closing and there is a risk of this ancient sport being lost to future generations.
Traditional wrestling gyms in India are facing tough times. With the appearance of modern gyms and a lack of support from the government for the akharas, these places are disappearing. More and more young men prefer to work out at new gyms rather than follow the strict diet and almost religious training routine of the traditional akhadas where they have to work out following ancient techniques that involve rigorous discipline and long hours at the wrestling grounds.
At the akharas, sex, alcohol, drugs, tobacco and meat are forbidden. Their strict vegetarian diet is composed of mainly chickpeas, almond milk and a paste made with clarified butter called khurak.
Keeping a balance between a normal life and dedication to this sport is difficult and those with regular jobs struggle to train frequently. In order to succeed they need to focus on the training routine but they also need to make a living. This is why, without government support, the tradition is slowly dying out.
This is a series of images from different akhadas around Varanasi. Many of the gyms I visited when doing the research had closed down and those that still open were almost deserted with only a few local youths training.